What is the COVID hangover?
The COVID hangover: the lingering effects of a "make it work" mentality organizations adopted in response to the COVID-19 pandemic.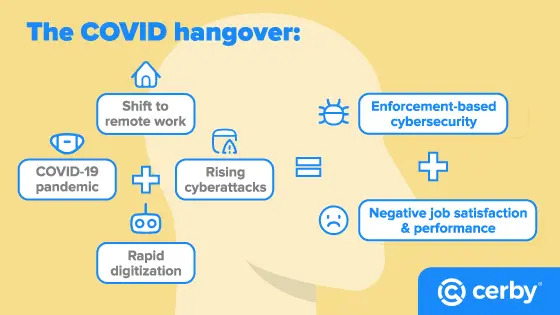 The sudden shift to remote work in 2020 meant businesses and their employees had to do whatever it took to stay productive. Once confined to legacy applications and office networks, employees were free to work however they wanted. Over time, they grew accustomed to autonomy–including the freedom to choose which applications to use for work.

But remote work also propelled rapid digitization in almost every industry, creating unprecedented risks for businesses. As the number and cost of cyberattacks continued to rise, many organizations doubled down on an enforcement-based approach to cybersecurity–one that establishes policies on which applications employees can and cannot use for work.

According to our research, 78% of employers have policies on applications. Of those organizations with policies in place, 61% of their employees report having had applications blocked.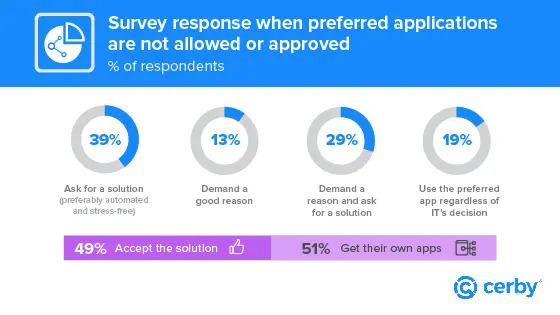 When an application doesn't meet your organization's security standards, sometimes, the best decision might be to block it. But are enforcement-based policies and prohibitions actually working? The answer is, probably not.

Despite the popularity of enforcement-based approaches, employees and managers continue to use their preferred applications, even if they don't support industry or organizational security standards.

In fact, over half of employees surveyed said they would still proceed with using a prohibited app even if their employer gave them a solution, a reason, or both.

Today, applications are intimately tied to how people get their work done and the overwhelming majority of employees want full control over the applications they use – 92%, to be exact.

Additionally, most employees indicate that having an employer block an application would reduce trust and negatively affect the way they think about their job.

Organizations and their security teams need a new approach for securing cloud applications, and especially when it comes to unmanageable ones. But striking a balance between employee application choice and employer responsibilities with security and compliance isn't easy–which is why most employers are struggling to do so on their own.

To help employers manage unmanageable applications in the wake of the COVID-19 pandemic, we created Cerby–the world's first user-driven security platform for unmanageable applications.

A user-centric, employee-friendly enrollment-based security solution, Cerby empowers employees to choose the best applications for their work and self-enroll them in a single security solution. Our proprietary technology uses robotic processes to automate manual processes, uncover security issues, and make it easy for users to implement zero trust principles, all in a single platform.

When people understand that application choice comes with responsibility, security becomes everyone's concern. With Cerby, registering employee-chosen applications is simple, so those same employees who once resented company-wide policies on apps can become willing participants in strengthening security, and ensuring compliance.

Since we released our platform in 2021, Cerby's software lets clients like L'Oreal, Wizeline, and Fox fix common application liabilities efficiently while facilitating collaboration. Join some of the world's most recognizable businesses in discovering why Cerby is a must-have for organizations today.
Read the full report to learn more about the COVID hangover and how an enrollment-based solution to unmanageable applications helps.