What are Unmanageable Applications?
Unmanageable applications: a new category of applications becoming increasingly challenging for businesses to manage and secure effectively, yet increasingly critical for businesses to succeed.

Today, most organizations use apps to streamline processes and reach previously untapped markets. For example, marketing technology (MarTech) tools, which help marketing departments plan and execute marketing campaigns. Or social media apps, which help businesses communicate directly with consumers to cultivate their brands.

But managing work-related applications isn't always easy, and it's especially difficult when those apps fall into the "unmanageable" category. Unfortunately for businesses, a lot of them do.
What is application management?
Application management is an ongoing process with specific activities at each phase of the application lifecycle–from application selection, to access management, to application off-boarding.

Application management services (AMS) can help organizations reduce the burden of application management, but they also come with some caveats. Putting your organization's data in the hands of a third party almost always introduces new risks.

No matter how your organization manages its applications, unmanageable applications are just that–unmanageable. But what does that really mean?
What makes applications "unmanageable"?
Unmanageable applications are applications that lack support for the standards enterprises need to manage them at scale. Unlike shadow IT, which can include any app that's selected and on-boarded outside the purview and visibility of security, unmanageable apps don't support common industry and security standards including SAML for authentication and SCIM for user management.

For the organizations using them, unmanageable applications can lead to a number of challenges such as insecure configurations and inefficient processes, which can put brands at risk. Employers try to restrict the use of unmanageable applications for this very reason, but often with little to no success.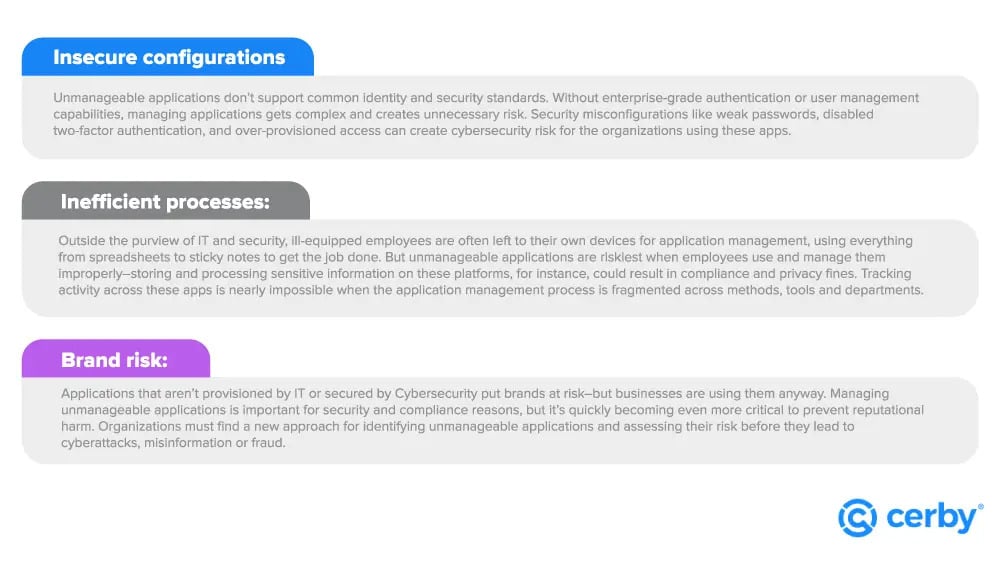 Policies and prohibitions to restrict the use of unmanageable applications rarely work as intended. Application bans and blocks interfere with employee autonomy and they undermine trust, both of which can negatively affect job satisfaction and performance.

Among the most popular unmanageable applications you'll find recognizable platforms like Facebook, PayPal, Twitter, YouTube, Instagram, LinkedIn and more–apps that can make your employees jobs easier, when used appropriately.

Today, most people expect the freedom to choose which applications they can use for work. In fact, 92% of the workforce say they want full control over decisions about which apps to use for work. Some employees also say they would continue to use an application even if it was restricted by their employer.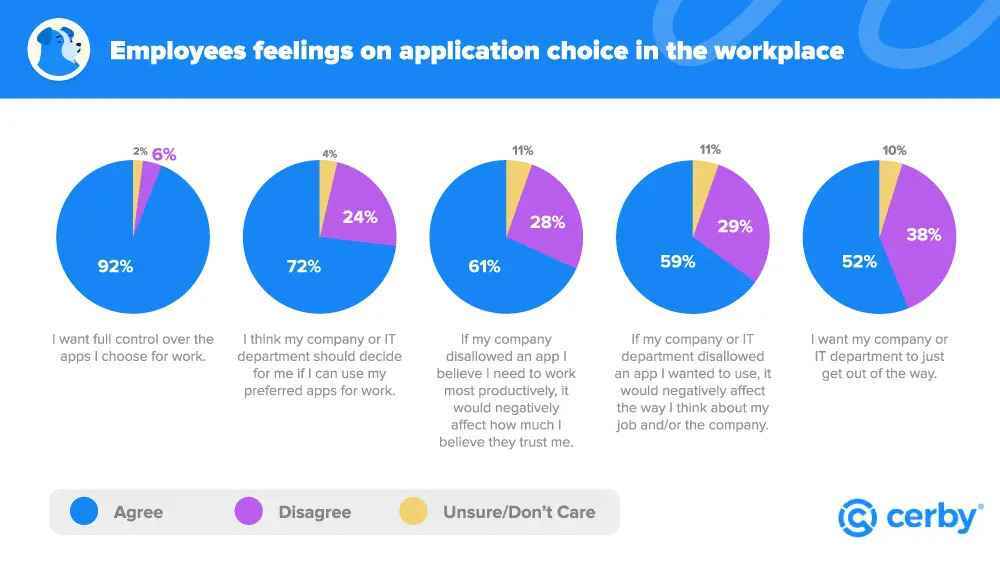 That's because unmanageable applications come with benefits too–for instance, they increase productivity. But unmanageable applications are also difficult to detect, and detecting them manually can be taxing on overburdened security departments.

Clearly, organizations need a new approach for managing unmanageable applications.

The world's first security platform for unmanageable applications, Cerby empowers employees to use any application they want–unmanageable or otherwise.